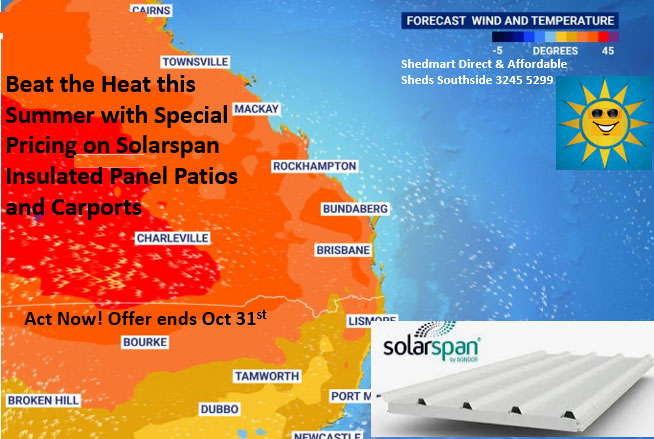 Affordable Patios, Carports, Sheds and Garages Builders & Installers in Brisbane
If you're in the market for an affordable shed, patio or carport there's no better place than Shedmart Direct. Our design consultants have industry-leading knowledge of engineering design and construction. They're up-to-date with local laws and building regulations and are practically-minded so you end up with the optimal design at the best price with no hidden costs.
Shedmart Direct is a family company with owners Frank and Kathy having built in the region since 1974. Today their extensive display centre at Beenleigh showcases many ideas to kick-start your next outdoor building project whether it's a small workshop or large commercial COLORBOND® sheds, stud-or portal frame - we've got you covered. Outdoor Patios and Carports available in the full range of COLORBOND® steel colours are also on display in flat roofs and a range of gables with multiple roofing options available.
Our affordable sheds, carports and patios utilise 100% Australian Made premium-quality steel components and we also offer the best construction and concrete works. We have selected highly trained, capable and courteous shed installers and patio and carport builders to look after our clients and we know you'll love their high quality workmanship. We're the shed builders Brisbane prefers.
Shedmart Direct is a QBCC licensed builder so we can look after you every step of the way through site measurement and design advice, building approval paperwork and lodgement, earthworks, concrete, construction and site clean to ensure you get the very best sheds carport or patio possible.
Come on in and visit us today or call us and we'll come to you, obligation-free.